More than just an ordinary video and music downloader, Jaksta Media Recorder makes it incredibly easy to save and convert videos and music from thousands of web sites directly to your Mac.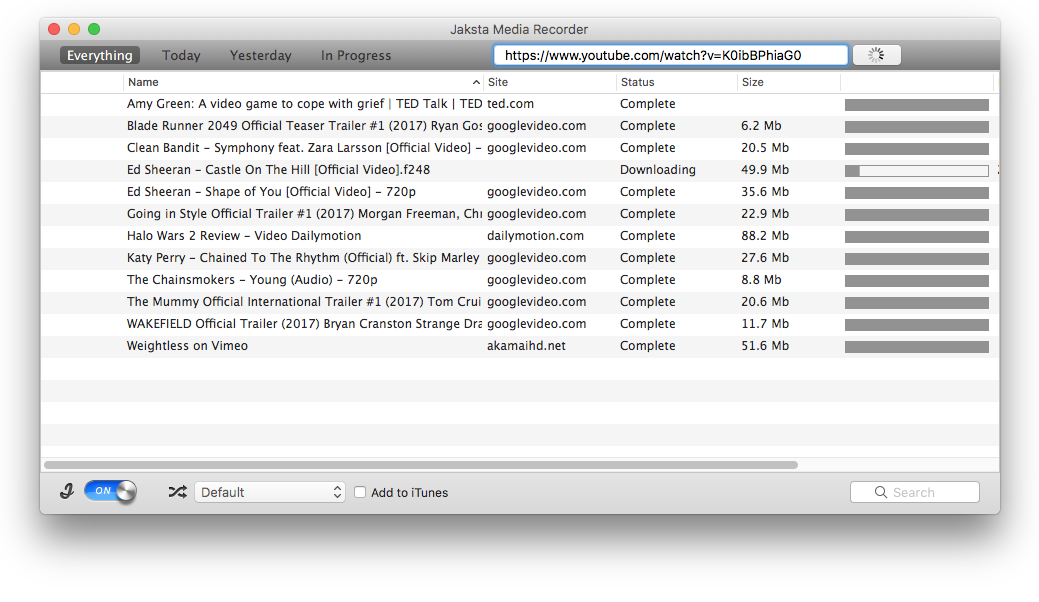 The best YouTube downloader
Jaksta Media Recorder can download YouTube videos. Use Jaksta Media Recorder for your YouTube downloads as it is the best YouTube downloader for Mac.
Its simple to use
Here's how:
Open Jaksta Media Recorder
Play a song or video from your favorite web site
Laugh heartily as a perfect copy is saved to your Mac at lightning speed
High Speed, High Quality Recording
How does it work? As you play video or audio, Jaksta Media Recorder copies the file directly from the originating server. This downloading technique means that the quality of the recorded files are perfect digital copies of the original, and media is captured up to 10x faster than playback time. This makes Jaksta Media Recorder the best Mac video downloader in it's class.
Capture all Common Stream Formats and Protocols
Jaksta Media Recorder will download video and audio from any web site using these common formats or protocols:
FLV
HTTP
RTMP
ICECAST
WMV
ASF
MP3
MP4
SWF
and more ...
Automatically Converts to all Popular Formats
Select from one of the conversion options on the main screen, and downloaded video or audio files are automatically converted. You can also choose to have files imported into iTunes.
Mac/Quicktime
iPod
iPhone
iPad
Apple TV
PSP
PS3
Android
MP3
MOV
MPEG-4
AVI
and more ...
30 Day Money Back Guarantee
Every Jaksta product comes with a 30 day money back guarantee. Order now with full confidence. Normally $49.95, but order now for a special offer.
Watch this quick video to see Jaksta Media Recorder in action